Well, it's been a little while, so I have quite a bit to catch up on.


Central Park Summerstage
starring:
DJ Rekha, Jean Grae, Pete Rock, and Lady Sovereign
First off, let's talk about DJ Rekha. Now, I don't know a whole lot about South Asian music, but apparently I was watching one of the pioneers of New York's South Asian music scene. She spun a lot of hip hop, while this guy played the drums over the beat.
They were joined onstage by this guy whose name I didn't catch, but according to DJ Rekha he went on tour with Punjabi MC, but "he's not Punjabi MC, he's better than Punjabi MC!" So yeah, then they proceeded to play Punjabi MC and have this guy sing/rap. I'm not sure why he wouldn't do his own music, but I guess the Jay-Z song has the recognition factor. Anyway, he was awesome. Rekha did two sets, both of which included her really cute stage dancers
and the second set had a breakdancer too.


So yeah, after DJ Rekha's first set, Jean Grae came out with DJ ID and did her thing. She mentioned at one point that ID had just won a DJ contest and one of the results was he got to DJ for her at this concert. For two people who had admittedly never performed together, they had really good stage chemistry.

Grae had the whole crowd banter thing down pretty well, my favorite gem being, "so there's a lot of people with their children here today, that's fucking cool.", and man that is one broad that can flow. She ended her set with a song that included some rapping and some singing, and to my surprise she had a decent set of pipes. The song was about screwing around with somebody and leading em on while they're falling in love with you, I mean who doesn't enjoy that? If people didn't enjoy it, the crowd wouldn't have been singing along and two-stepping in unison. So after Jean Grae stepped off the stage and after DJ Rekha's second set, out came Pete Rock, along with his hypeman / brother.

Pete Rock was all over the place, he was spinning stuff he produced, he was scratching, he was rapping, he was shouting out J Dilla, he was spinning random songs he didn't produce, he was just all over. He even brought up the split between him and CL Smooth, not going into details but just saying that he wished him the best of luck and that sometimes people need to grow the fuck up. He then remarked, "and we're still gonna perform this track, cuz I made the damn beat," then he tore it up. Basically what I'm saying is that Pete Rock should've been the headliner, he totally ran with the momentum that Jean Grae and DJ Rekha gave him and he had the crowd in the palm of his hand. He even got them dancing in unison again. Then came Lady Sov.
Now, the last time I saw Sov I had a blast, but this was another story completely. First off, her DJ seemed to be experiencing some kind of technical difficulty. At the knitting factory this spring, he was spinning grime records and his set was nasty. This time, he was mixing in Mike Jones and other American stuff, poorly, and with the technical difficulties, it just did not sound that great. So then, Sov came out and the crowd seemed to be into it, but I would be lying if I said I was feeling it. I mean, all day, people were on stage preaching positivity and such, then this brat gets on stage and asks, "hey so who likes alcohol???" I mean, it just didn't mesh. She did a terribly short set before dropping the mic and storming off stage, then came back for one quick encore song. She came off as a complete diva, which I kind of got a hint of last time I saw her, and her song selection didn't fit with the musical vibe of the day at all. She was still cute as hell though. So that, along with blunts and $6 cups of Stella, was Summerstage.
Then last night, I got to check out Ziggy Marley, but I forgot to bring my camera to that one. It's too bad too, since we were within arm's length of Ziggy at any given moment, and my camera's zoom isn't so great.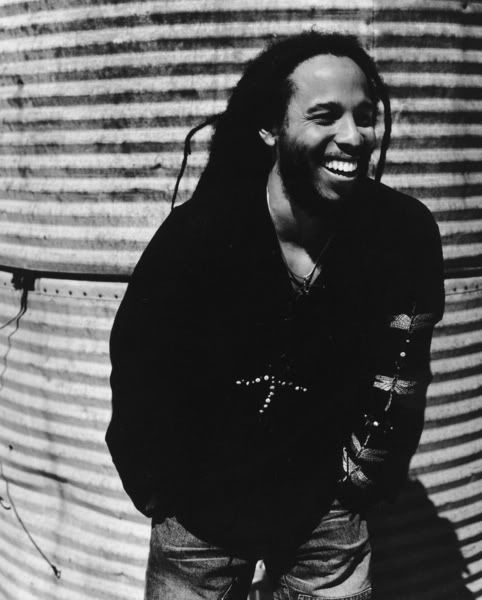 It was some kind of showcase for EMI records, but through some tomfoolery, 3 of my friends and I got onto the list and made our way into the private show to enjoy the music and the free open bar. I have to admit that I'm not really familiar with Ziggy Marley's music, beyond knowing that the name of his band is The Melody Makers. I really enjoyed his set though, even if it was a little on the shorter side. Now we went to the show it'd be okay to smoke at, since c'mon, he's Bob Marley's son. Then once we got there, we saw that the crowd was all industry folks and everyone was kinda having just one beer and being business like, as opposed to us, red stripe in one hand, mixed drink in the other. Somehow we got away with smoking a blunt next to the bar though, even though there weren't even any cigarette smokers there. Then we ended up going to an outdoor showing of Cruel Intentions, my friend made out with the EMI hostess who looked like M.I.A., we met Janene Garafolo, and everything else is a little blurry. Oh yeah, the music. Ziggy Marley is good, everyone should buy his new CD, but honestly I don't even know what it's called.
Oh and another thing

I've always maintained that I'm a bigger Nas fan than Jay-Z fan. Now that may no longer be true, but the reality remains that even when it was true, I always said "The Takeover" is a better song than "Ether". First of all, the beat for "Takeover" is immeasurably more hardcore than the beat for "Ether". Not that Jay made the beat, but still, Nas shouldn't have been satisfied with the "Ether" beat if he knew what he was shooting back at. But even if you don't consider the production, "The Takeover" is just a far more scathing song. Jay hints at screwing Nas's ex wife, Nas mentions that Jay uses a lot of Biggie lines in his songs. Ooooh, touche Nas. Anyway, when all was said and done and the buried the hatchet, they emerged as equal men.
Oh wait, no that's right, Hov is Nas's boss. If you're the one running to fetch the coffee every morning, my belief is that you got schooled.

Also, at work one day this week I found two big racks of cassette tapes in a back room somewhere. I ganked "DJ Joints Wu World:The Mix imperial" and a D.J. Kayslay mixtape that I don't even think has a title on it. I'll post up some tracks from them within the next week, right now I don't have a tape deck hooked into my computer. The Wu-Tang mix is pretty terrible, at least side A is. The Kayslay mix isn't as bad, but it's weird to hear him rap. He should not do that ever. That same day I picked up The Hard Way by Long Beach supergroup 213, for 2 dollars.

Such a good buy. There's a lot of cool production on the record, with a track by Kanye West, a DJ Hi-Tek track, Missy Elliot, and others that I've decided to leave out so I can type less. The Kanye track was up on Soul Sides just a little while ago, so it's the only one I have on my computer at the moment.

I may talk a lot of smack on West Coast rap, but Snoop Doggy Dogg, Nate Dogg, and Warren G have the ability to make me forget all that.
And with that longwinded splooge of a post, I have returned.