Wu Tang Corp. has released a statement saying that Cuban Linx II is "almost finished, if not already finished. According to Raekwon's management the production credits are shared 50/50 between Dr. Dre and RZA but the final tracklisting has yet to prove if it will be the end result." Busta's name isn't mentioned at all in the release, so I don't know if he's still exec. producing or what. Apparently the entire clan will be appearing on the album, but no other guest appearances can be confirmed at this point. Nah Right posted this track up along with the news,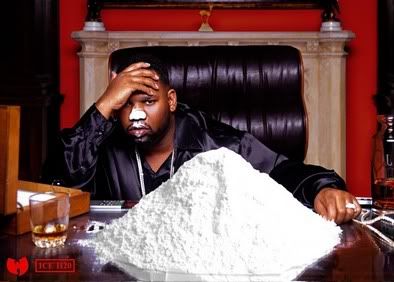 Maybe it's one of those tracks that grows on you, but for now it just strikes me as being nothing too special, and not nearly as enjoyable as "State of Grace", (except for that stupid line about a brokedown fucking mazda).


In other Wu News, apparently Jay Z is pushing Ghostface to drop another album by December 12 and will not be having the Ghost appear on his new album, despite rumors saying otherwise. The album is currently titled "More Fish".
In
NON

WU TANG
news, a radio host friend of mine informed me that "O Valencia!" is going to be the single off of the new Decemberists album.
I know I panned the album earlier, and I still don't love it, but I have to say it has grown on me a bit. My thing with it was that it sounds like Colin Meloy's solo stuff more than it does the Decemberists. I happen to like when Colin Meloy sang "Valencia" solo though, so maybe that's why I'm so down with this track.