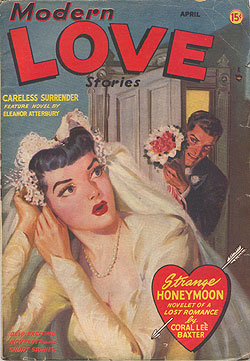 "Modern Love" by David Bowie
This is a really great song for driving by yourself, or if you're pretty comfortable with someone. The weird, vague spoken part at the beginning is fun to imitate, the lyrics are easy to remember, and the timing is just right that you can sing the main vocals and the backup all by yourself. Someone told me that there's a version of it with Tina Turner and Bowie that they did for a Pepsi commercial. I'm not terribly keen on the whole corporate whoring thing, but damn, Tina Turner's voice must sound great on this song.

"This Modern Love" by Bloc Party
This is just one of those songs that the first time I heard it, it became one of my favorite songs of the moment. The way Mr. Kele Okereke-Okay, I didn't have to use his whole name there, or his name at all, but God Damn, that is a cool ass name, is it not?-alternates between the right and left side at first is pretty cool, nothing earth shattering, but it works well here. The instrumentation is all simple, but really well layered, and the effect is just... pretty. That's really the best way to describe this song, catchy and pretty.

"Modern Romance" by the Yeah Yeah Yeahs
This has always been one of my favorite Yeah Yeah Yeahs songs, the other one being Art Star. The drums and guitar are so simple that they have this hypnotic quality of sorts. The only time either changes is when both drop out momentarily, on a very odd place in the beat, and then come back in a second later. Combine all that with the the soothing nature Karen O's voice takes on in this one -quite the opposite of Art Star- and the guitar effects layered on top, and the song as a whole is so peaceful. It's the perfect instrumental vehicle for the lyrics, a very somber and accepting look at heartbreak. There's even a cool bonus track at the end of it.

***

I'm not sure why all these songs ended up with almost the same title, but they all do it very well, so I wrote about it.

peace.