Back in the summer, I posted about DJ Eleven's mixtape
Summer Madness
, which I loved. Recently I came across a sequel of sorts called
Winter Sadness
, and I have to say I like it even b
etter. Aside from a disapointing remix of Gza's Cold World with D'Angelo, every track is great. Here's your playlist:

1."Stormy Weather" by Etta James
2."In The Cold, Cold Night" by the White Stripes
3."Til It Happens To You" by Corrine Bailey Rae
4."Dream" by Alice Smith
5."The Rain" by K-Os
6."And This Is Love" by Gladys Knight
7."Rain" by Bruce Ruffin
8."Ain't No Sunshine" by Ken Boothe
9."Bela Lugosi Is Dead" by Bauhaus
10."Can't Stand The Rain" by Ann Peebles
11."King Of Sorrow" by Sade
12."The Root" by D'Angelo
13."Quiet Storm" by Smokey Robinson
14."Down And Out In New York City" by James Brown
15."Cold World" remix by the GZA/Genius with D'Angelo
16."Stop The Rain" by the Average White Band
17."Date With The Rain" by Eddie Kendricks
18.''13th Floor / Growing Old" by Outkast
19."Ice" by Spirit
20."All That I Got Is You" by Ghostface feat. Mary J. Blige
21."Ain't No Love" by Bobby "Blue" Bland
22."Winter In America" by Gil Scott-Heron and Brian Jackson
23."California Dreamin'" by Lee Moses
24."I Forgot To Be Your Lover" by William Bell
25."We've Come Too Far To End It Now" by Smokey Robinson
26."Winter Sadness" by Kool & The Gang
27."Refuge (When It's Cold Outside)" by John Legend

Download the mp3s in zip form from DJ Eleven himself here.



Also,

I've also found myself listening a lot lately to a CD I burned over the summer. I gave the original to the Douchipster for a long car ride, but I recently burned myself a slightly revised version, so here it is, for your listening pleasure:


Cigarbox Guitars
Volume 2: The Dutchmaster Collection

1. "Distopian Dream Girl" by Built to Spill
They push out such a tangled guitar sound here. I love it. The opening chords push my head into a bop everytime the CD starts.



2. "Heavy Metal" by Clap Your Hands Say Yeah!
The new CYHSY stuff that I've heard is starting to grow on me, but I can't even put it close to the spastic fuzz rock of their debut, especially this song. Plus the harmonica reminds me of the "Lucky Louie" theme, the best theme song on TV. The wife is on some new sitcom now that "Lucky Louie" has been cancelled. She seems just as crazy and sexy, but I'm not having it.



3. "I'm a Loner Dottie, a Rebel" by the Get Up Kids
There's a school of thought that if the Get Up Kids recorded one great song, that this is it. I happen to think they recorded a ton of great songs, but I have to say that this tune is particularly rocking. Plus, they reference Pee-Wee's Big Adventure in the title.



4. "The Seed" by Cody ChesnuTT
I mentioned a short while ago how I think "The Seed 2.0" with the roots is far superior to this version. I still hold to it, but that doesn't mean I don't have a special appreciation of this song. I mean, it's lo-fi, so it has to be better on some level right? Isn't that why I started listening to the Mountain Goats? Wait no, that's cuz they're awesome.



5. "The Great Communicator" by Ted Leo & the Pharmacists
I always enjoy me some Ted, but his high-energy tunes are really where it's at. Everytime I hear this song it makes me want to catch him in concert again.



6. "If She Wants Me" by Belle and Sebastian
Here we let up from the rock rock rockin for a moment to waft along in the breeze.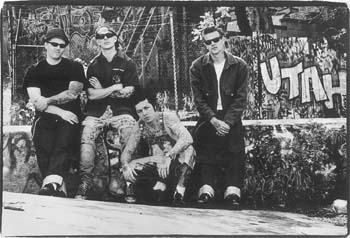 7. "Cocktails" by Rancid
I may have a ton of animosity towards Tim Armstrong and Lars Fredericksen (like for recording two self titled albums), but I'll be damned if this song isn't a helluva lot of fun. The whole album it's off of,

Life Won't Wait

, is pretty cool. There's a ton of guest musicians, Buju Banton, Eric Stefani, Vic Ruggiero, Roger Miret, and the guys from the Specials. There's even a C-Squat reference. It's nice to hear Rancid make an authentic New York reference (parts of the album were recorded up here, as well as in Jamaica and New Orleans) after their other mad arbitrary references (hangin out on 52nd and broadway?). Plus, there's more harmonica that reminds me of "Lucky Louie".



8. "Damaged Goods" by Gang of Four
I was at an open bar a month or so ago and this song came on. I don't think I stopped dancing until morning.



9. "Chesterfield King" by Jawbreaker
This is one of the only songs I can think of where the sad kid gets the girl and it doesn't end up being overly cheesy. Plus it makes you want to smoke cigarettes. This one is for the kids.



10. "Jailbird Bars" by Cleveland Bound Death Sentence
This song is like the sonic equivalent of getting kicked in the balls and liking it. This song is like the girl who you pulled her hair cuz you liked her, then she gave you a purple nerple and you fell in love. This song is like the one girl you used to see at punk shows who

wasn't

just there with her boyfriend.

11. "Summertime" by Crimpshrine
One of two tracks on this mix that Aaron Cometbus rocks the skins for. Usually in punk rock, the drums are so homogenous, but he really has a distinct sound, which can be hard in any genre. I don't think Green Day would've had the sound they did in the early days if it wasn't for this track.



12. "Blank Generation" by Richard Hell & the Voidoids
I had a chance a week or so ago to meet Richard Hell, but it cost 8 bucks. I had just spent my last few dollars on pommes frites, plus a bunch of beer had just been purchased and was in hand. So it wasn't really in the cards. Too bad though.



13. "Moonlight Mile" by the Rolling Stones
I don't really like the Stones at all, especially Mick fucking Jagger. I can't deny Keith Richards guitar playing though and every now and again, I like the way Jagger's voice falls over it. I don't know if I'd like this song so much if it wasn't in a great Sopranos episode though.



14. "The Boy With the Thorn in his Side" by the Smiths
Maybe my favorite Smiths song to sing loudly when I'm driving. Also, I tend to whistle this when I'm walking.



15. "Window Display" by Enon
Hands down my favorite enon song. I was so bummed when I caught them live and they didn't play it.

16. "Almost Crimes" by Broken Social Scene
C'mon, just try to NOT dance.



17. "Modern Love" by David Bowie
Once again, I have to dare you to try not dancing. My answer changes all the time, but I think lately, if someone asked me, this is my favorite Bowie incarnation.



18. "Huddle Formation" by the Go! Team
Download this mix and you can hear this song OUTSIDE of the context of a car commercial.


19. "The Sons of Cain" by Ted Leo & the Pharmacists
Oh Ted, so nice, you made the CD twice. This is the one song I added to the original version. This song just came across my radar, and I fucking love it.