Since the summer, I've been whipping a new(er) car with a big advantage over my old car. A tape deck. I'm sure there are folks out there who think a tape deck would be a step down from a mp3/CD player, but really, that's balderdash. Having a thought out mix CD is always nice, and plugging in your

iPod

is handy (if it hasn't been stolen yet), but there's a certain quality to a homemade tape that just can't be beat.

Recently a friend gave me a tape that I thought deserved special mention on here. Side A of the tape,

Paul's Boutique

by the

Beastie

Boys.



see the scenic LES corner, mere blocks from ABC No Rio!

Flip to side B, and it's

Raw Power

by Iggy and the Stooges.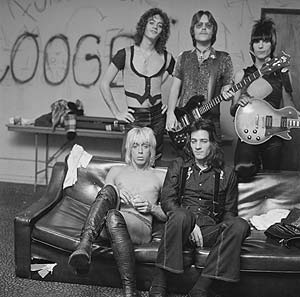 pre

James

Mecklenberg

days
Sonically, yeah, the albums are pretty different. I wouldn't have expected them to go together very well. It's such a great combination though. Even though they approach it very differently, both albums have a strong element of chaos that helps them vibe together, and the entire package makes for a great driving tape.



The epic 9 song mega track that closes out the album. My favorite part is the third song, "Stop That Train". Not only is the beat funky as hell, but there's a great sample of Keith and Tex's song, "Stop That Train", that vocalist/DJ

Scotty

recorded a

singjay

version of for the
The Harder They Come
soundtrack.
The first Stooges track to come blistering out after the automatically tape flipping. Already a great start to an album, now an even better start to the album. It makes me drive recklessly.
Speaking of the cover of Paul's boutique, if you're in the vicinity on November 24, you should check out Street Smart Cyclist at ABC.
Go to their

myspace
and download the songs yourself.